2020 Leadership Montgomery Agriculture Day
Find this article at:
go.ncsu.edu/readext?671945
Each year, Montgomery Community College recruits and organizes a Leadership program for the county. As part of the program, Montgomery Cooperative Extension partners with them to offer an annual Agriculture Day for the class. This year's Leadership Montgomery Class enjoyed a day focused on the best of Montgomery County Agriculture including but not limited to agricultural research, produce production, beef cattle production and grazing sheep with solar farming. Agriculture Day was held on Thursday, March 12th and started with a tour of the Sandhills Research Station where Superintendent, Jeremy Martin educated the group about the history of the Research Station and its importance to the development of new varieties of agricultural commodities such as turfgrass, fruits, landscape ornamentals and field crops like tobacco, cotton and soybeans. Research projects on insect and weed control along with drought tolerance and other important issues are also being conducted at the station.
The second stop of the day was in Biscoe to the Montgomery Sheep Farm, home to over 500 sheep that graze the land beneath the solar panels belonging to O2emc, LLC. The tour was facilitated by owner, Joel Olsen. The farm produces 99% of its own energy and markets lamb salami and other lamb meat cuts online or at the farm through Sun-Raised Foods. A locally sourced lunch was enjoyed at the sheep farm's lodge and was sponsored by Carolina Farm Credit of Ellerbe, Montgomery County Farm Bureau and Tractor Supply Company of Biscoe.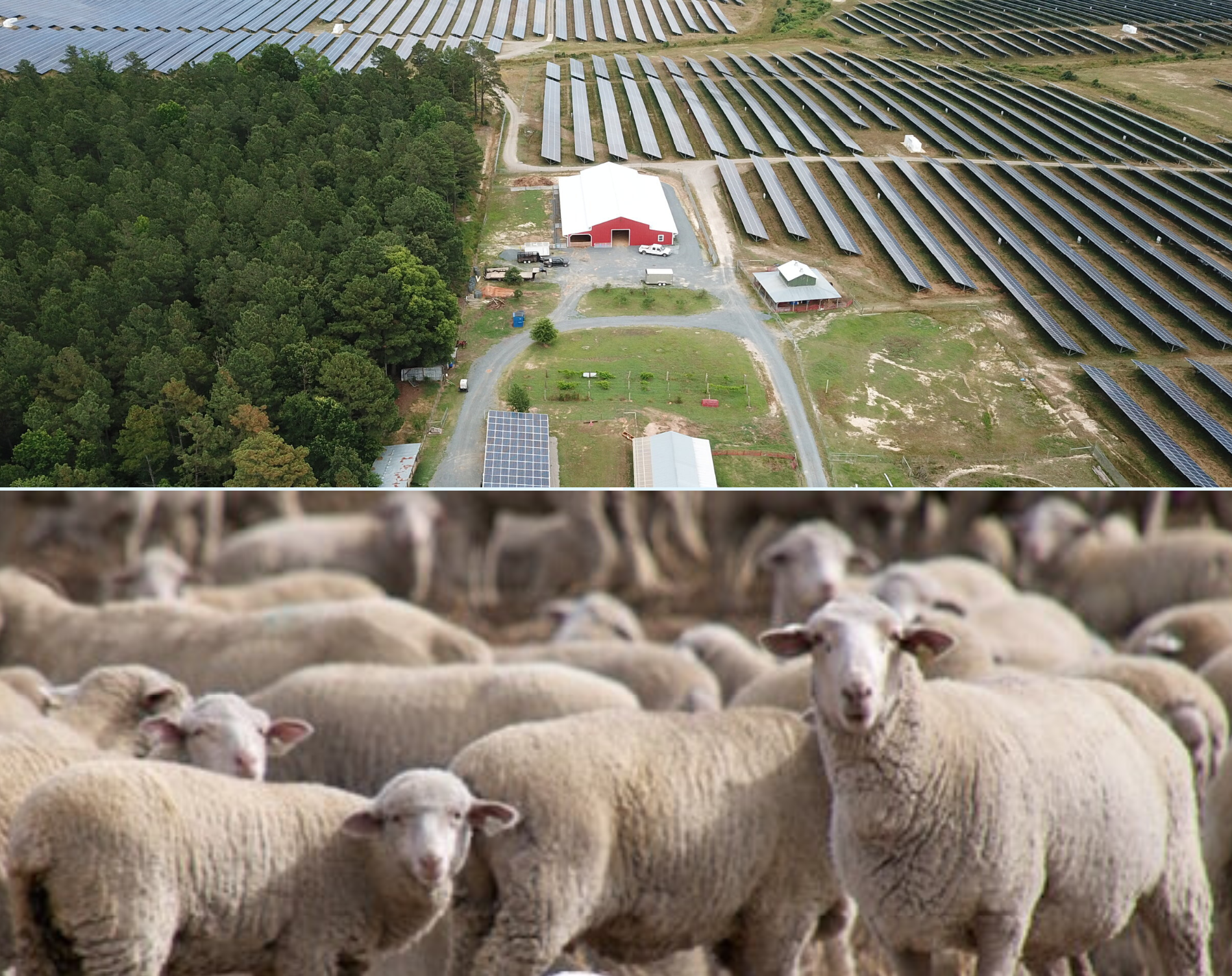 After lunch, the group visited C-Cross Cattle Company where owners Duane and Wendy Strider educated the group about the Gelbvieh cattle breed and the Beef Industry. The Striders also raise lambs and pigs for meat production. Discussions on this leg of the tour focused on farm animal welfare, management, breeding programs, genetics and marketing. Before departing, all participants were treated to a pound of C-Cross signature pork breakfast sausage to take home and try for themselves.
The final tour stop was at Christy's Country Produce in Star where owner and operator Christy Freeman addressed the group and informed them about the ins and outs of produce farming in the county, season extension options and the business of produce. Christy grows a variety of tomatoes, cucumbers, potatoes, sweet potatoes, squash, peppers, beans, greens and more on her farm. Christy sells her fresh country produce at the Troy Farmers Market from April through October and directly off the farm.
After a day full of enjoyable tours, fellowship and education on the diverse Agriculture Industry in the County, the group boarded the bus, driven by Mr. Dave Wilkie and returned to MCC to head home. For more information on any of the farms mentioned above, please contact Jamie Warner, Extension Agent – Agriculture at (910)576-6011 or jamie_warner@ncsu.edu.