Boo! Don't Let Halloween Weight Sneak Up on You!
Find this article at:
go.ncsu.edu/readext?491350
Halloween typically marks the beginning of a very festive holiday season- and that season is usually full of food, food, and more food! With child and adult obesity rates still being high in Montgomery County, North Carolina and our nation, it is important to focus on adding health into our holiday celebrations. With a little foresight and planning, even holidays that are centered around food can be enjoyed without the risk of additional weight gain, or increases in blood pressure, sugar, or cholesterol.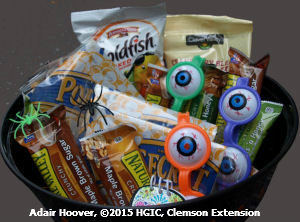 Follow these Tips to Prevent Halloween Weight from                          Sneaking Up on You and Your Family:
Plan for Healthy Trick-or-Treat Alternatives

. When little goblins and princesses come to your door looking for a treat, consider passing out nutritious, tasty foods and non-food options, including items that get children up and moving to use the extra calories the consume. Some ideas for healthy food treats include:  popcorn, cereal bars, snack packets of dried fruit, baked pretzels, nuts and seeds, trail mix, packages of low-fat crackers with cheese or peanut butter filling, animal crackers, goldfish crackers, Cracker Jacks, 100 calorie packs of various items, beef or turkey jerky, single serve boxes of ready-to-eat cereal, raisins, fig cookies, sugar-free gum and candy, gummy candies made with real juice, snack pack pudding, jello with fruit, applesauce, or bean dip. *Always remember to consider peanut allergies when determining your Halloween treats!*  Non-food treats can include:  small toys and pocket-sized games, glow sticks, costume jewelry (plastic rings, necklaces and bracelets), funny Halloween glasses, false teeth, miniature magnifying glasses, tiny decks of cards, small stuffed animals, pencils, pencil toppers and fancy erasers, markers, stickers, rub-on or stick-on tattoos, bookmarks, crayons, coloring tablets, paint brushes, pages from coloring books, bottles of bubbles, whistles, toothbrushes, or used books. You can also encourage kids to be more physically active by promote physical activity such as  a bouncy ball, a jump rope, sidewalk chalk for drawing a foursquare game or hopscotch grid, a beanbag for hacky sack, or a plastic or foam flier or frisbee.

Help Kids Enjoy Halloween Without Over-Indulging

.

  

If you and your family eat sensibly all year, then kids know how to make wise decisions when they are tempted to overindulge with unhealthy foods.

Don't send your children trick-or-treating on an empty stomach. Make sure they get a good, healthy meal beforehand to reduce the urge to snack. 

Trick-or-treat bags that children carry should be appropriate to their size. Older kids can carry larger bags, but not as large as a shopping bag or plastic garbage bag.

Limit the houses your children can visit to a two or three block radius so that the treats will most likely come from neighbors and friends, and the moderate amount of treats will be manageable.

Teach Children Moderation in Eating.

  Help kids include the treats they bring home in a healthy eating plan by setting limits on when and how much candy they can have, and then stick to those limits!

Let kids choose a few pieces of candy to eat on Halloween night and then eat a few pieces each day after that. Forbidding or restricting candy may cause them to develop patterns of hoarding and obsession with candy.

Teach kids that sweets can fit into their diet in limited amounts.

Most candy has a long shelf-life. Put the "treat stash" out of children's reach and limit them to eating about two pieces of candy per day. Larger treats, such 

as chocolate candy bars, can be cut into smaller pieces and frozen.

If your child comes home with too much candy and sweet treats, arrange a buyout. Pay a nickel or dime for each sweet treat they "sell" you, and let them "earn" money for a toy or game they want to buy.
For more information about planning healthy Halloween parties, or to see the complete article, please visit: http://www.clemson.edu/extension/hgic/food/nutrition/nutrition/life_stages/hgic4112.html