Food Safety Tips During Emergencies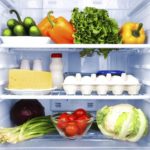 How long will a refrigerator keep foods cold if the power goes out? How long will a freezer hold its temperature?
If the door is closed, a fridge will keep cold for about 4 hours. A full freezer will hold it's temperature for 48 hours, and a half full freezer will hold it's temperature for about 24 hours. In order to keep foods safe in the freezer during potential power outages, it is important to group meats together on a tray to prevent cross-contamination of meat juices during thawing.
Freezing water in airtight bags can help to create an igloo effect and further protect foods, as well as maintain a water supply.
After an emergency, check the temperature inside of your refrigerator and freezer. Discard any perishable food (such as meat, poultry, seafood, eggs or leftovers) that has been above 40°F for two hours or more. Check each item separately. Throw out any food that has an unusual odor, color or texture or feels warm to the touch.C heck frozen food for ice crystals. The food in your freezer that partially or completely thawed may be safely refrozen if it still contains ice crystals or is 40°F or below.
Never taste a food to decide if it's safe. When in doubt, throw it out.
For more tips on food safety during Hurricane Irma and other emergencies, please visit: https://www.fsis.usda.gov/…/news-…/archive/2017/nr-090517-01
Was the information on this page helpful?
This page can also be accessed from:
go.ncsu.edu/readext?486734